Whether you're looking for your next daily driver, or are an avid fan of Tesla, you might be checking out the Tesla Model 3. So today, we're going to be taking a complete overview of the specs and features you can expect to find when it comes to the Tesla Model 3. 
We'll deep dive into each factor so that you come out on the other end a Tesla Model 3 expert, so you know exactly what you're getting when you purchase a car like this.
Tesla Model 3 Features
Tesla makes some huge jumps when it comes to innovation and as such, some of the features you can expect to find with the Tesla Model 3 are pretty new (and cool).
Tesla Model 3 Keys
Starting with something usually pretty simple, the car keys. When it comes to the Model 3, there are 3 different ways to get into the car, a key fob, your phone, and a Tesla key card. 
Coming standard with the car is the Tesla card key and the native phone application, with the key fob being an additional $150 accessory. 
To unlock or lock the car using the included key card, you can simply swipe on the pillar next to the front door window and the door will swap between locked and unlocked. I find this to be the least effective way to unlock the car, as the following methods are much easier.
If you have the phone app installed, you can simply walk up to the car and it will unlock the doors, and if you walk at least 5 feet away, it will automatically lock as well. This also works the same way with the key fob, they're almost the same when it comes to functionality.
If you do end up using the Tesla phone app, you can also remotely lock your car from anywhere simply by opening the app. You can think of the Tesla phone app as the command center, as it has a bunch of features to easily control and view most aspects of the car.
Tesla Model 3 Interior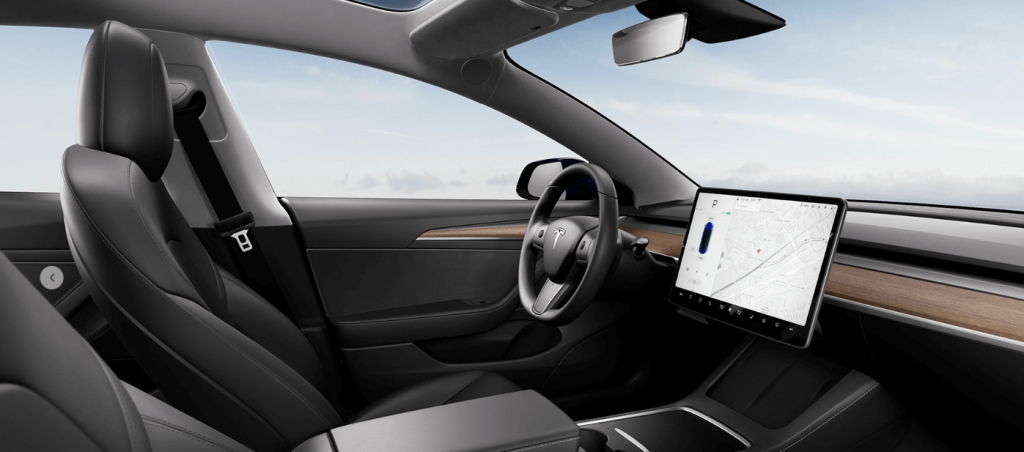 When you first enter a Tesla Model 3, your eyes will probably be drawn to the massive 15-inch central touchscreen in the middle, beside the steering wheel. This is the central hub for both controlling the car and viewing information.
The control panel touchscreen is used for a variety of different tasks, so let's touch on a couple of the major uses inside the car.
Making Adjustments – If you're looking to adjust the steering wheel, mirrors, or your seat, you can easily bring up the vehicle's settings on the tablet. Each of these settings is saved in a profile, the maximum number of profiles being 10, which you can switch between at any time. This can be especially great if you have multiple drivers, or have different preferences based on terrain.
Music & Radio – The touchscreen can be used, as a normal everyday car would, to turn on music or the radio. While the touchscreen runs custom software, you can still play music from a lot of popular applications like Spotify, Tidal, and Apple Music. In terms of radio, Tesla has its own custom-built internet radio streaming, which sounds terrific. 
If you're looking to change the music volume or song, you can easily do so from either the steering wheel, which has two scroll buttons, or directly on the panel.
Backup Camera – The classic backup camera can be found in the Tesla Model 3, but it's almost an entirely new experience with it being displayed on the gigantic 15-inch display. I've got to say, for someone who's always had a hard time seeing out the back, it is extremely nice to have such a large display.
Outside of the main tablet control center, there's a pretty minimalistic feel to the Tesla Model 3's interior. As with a lot of Tesla designs, it's very minimalistic, and as such, the number of buttons and doodads around the car are few and far between. This even goes so far as to the air vents, which are hidden in narrow crevices alongside the front dash, which in my opinion look very nice.
I did want to mention that there is a built-in charging dock on the center stack of the Model 3; One of them being for iPhone and the other for Android (phew… no more long USB cords in the car).
Tesla Model 3 Driving, Autopilot, and Cruise Control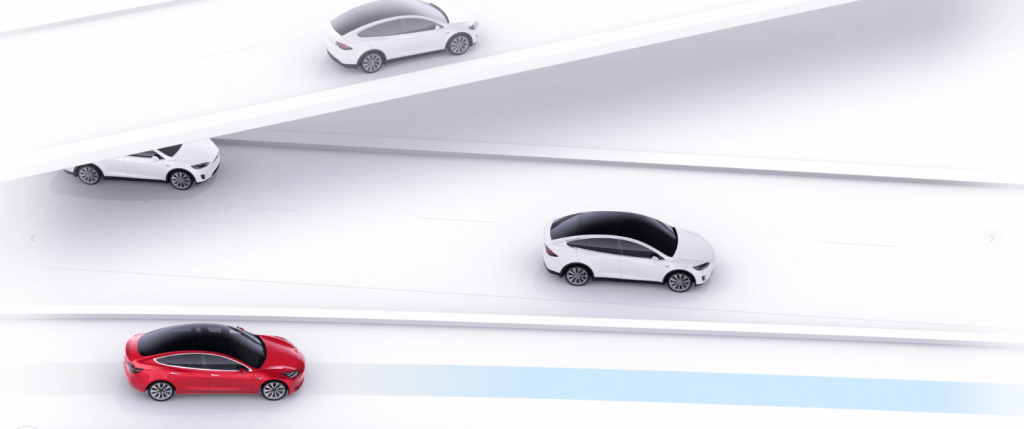 Now to the meat and potatoes of the Tesla Model 3, it's driving, autopilot, and cruise control; Probably the two most iconic features of all Tesla cars, being electric and having one of the most advanced autopilot systems in the world.
Driving
While driving an electric car isn't that much different from a gasoline-powered car, there are a couple of differences that shocked me when I first stepped into the car. The first thing I noticed was that there was no ignition. I know right, pretty crazy. Instead of turning the car on with a button or a key, you can simply press the brake pedal down and shift the steering column to reverse or drive. 
Alongside no ignition, it's almost eerily quiet. If you're used to driving around in a gasoline car, there's an almost ritualistic feeling of getting in, starting the ignition, and hearing the engine roar to life. In Tesla's case, when you start the car, it's much more of a calm and collected purr. 
Cruise Control
All you have to do to engage cruise control in the Tesla Model 3, is simply press down on the right stalk. The Model 3 has adaptive cruise control, which means once you engage cruise control, it will automatically detect the speed of surrounding cars and accelerate and accelerate as needed. That being said you can easily find the cruise control speed settings under the speedometer on the central control panel.
By using the cruise control speed settings, you can easily set the Model 3 to your desired speed parameters, so even though it automatically accelerates and decelerates, it will do so within the parameters that you have set.
You can also manually adjust the speed on the fly with the + and – symbols next to the speedometer or use the right scroll on your steering wheel.
Autopilot
Tesla Autopilot is probably one of the most advanced features that are included in most Tesla models including the Tesla Model 3. While the adaptive cruise control drives the car in some aspects, the autopilot system fully automates that car. In autopilot mode the Tesla Model 3 can get you to a destination almost hands-free. 
The Autopilot feature isn't always included by default, so if you're looking to purchase a Tesla Model 3, make sure you enable this package.
It is good to note, that if your car is equipped with the Full Self Driving option, then while your car is in adaptive cruise control, by simply turning on the blinker the car will change lanes by itself. 
A very cool add-on that comes alongside Autopilot is their Smart Summon feature, which allows you to summon your car from within your phone app. If you're within 200 feet using the Smart Summon feature, your car will drive to your location.
Charging the Tesla Model 3
One of the core features of any Tesla is the fact that the cars run off electricity and as such allow you to easily recharge the car without having to pay for gas, especially when their may be an upcoming gas shortage. So let's dive into how this works, and figure out how Tesla makes this process super easy.
Tesla's can either be charged at home with their Home Charging setup or through one of the many charging stations, called Supercharger stations, around the world. Charging the car couldn't be simpler, at any station or home charging station, you can simply plug in the "electric hose" the same as you would normally do while filling up gas. If you're at a Supercharger, the card you have attached to your Tesla account will automatically be charged.
Fun fact, there are over 1870 Supercharger stations across the world, which provide 150 or 250 kW of electric power. 
There are a few options when it comes to charging your Tesla at home. All Tesla models come with a native mobile connector, with a 20-foot cable, that allows you to charge the car from different outlets. This charge is a bit slow and you can expect a charge rate of around 3 miles of range per hour charged. 
If you're looking for a faster charging option, Tesla offers a Wall Charger that can be installed by an electrician. This Wall Charger will charge the car at a much faster rate of 44 miles of range per hour.
Tesla Model 3 Specs
That covers all the core features of the Tesla Model 3, so let's dive into the nitty-gritty, car specs. Before we jump into the specifics, it's good to note that Tesla prides itself on its customizability and price ranges and as such most Tesla models, including the Model 3, have quite a few different configurations. Each of these configurations can be further modified, which leaves quite a few combinations. Therefore, we're going to be taking a look at what options you can expect to find on a Tesla Model 3, and what your options are.
Tesla Model 3 Configurations
There are 3 main base configurations you can choose from, when it comes to the Tesla Model 3. These are Standard Range Plus, Long Range, and Performance. 
The Standard Range Plus is considered the best value, it has 263 miles of estimated driving range, alongside navigation, and heated front seats. The MSRP for this configuration generally starts at around $40,000. In terms of horsepower, the car sits at a healthy 283 HP, with a single-speed transmission and a rear-wheel drivetrain. 
Next up we have the Long Range configuration, which has an estimated range of around 353 miles, which is great for drivers who expect to be on the road for long periods of time. Alongside some of the same features, as you would expect with the Standard Range Plus, you also get a higher horsepower sitting at 449 HP, a substantial upgrade to the powertrain. This configuration comes in a single-speed transmission with an all-wheel drivetrain. This configuration typically sits at an MSRP of around $49,000.
The last configuration for the Tesla Model 3 is the Performance model. This is the most expensive configuration sitting at an MSRP starting at $57,000 on the cheaper side. That being said, it's a pretty substantial upgrade. It clocks in at around 380 horsepower with a single-speed transmission and all-wheel drive transmission. In terms of range, you can expect around 314 miles. The biggest increase in power comes in the form of its acceleration clocking a 0-60 in as little as 3.1 seconds.
Tesla Model 3 Customizations
When it comes to customizability, Tesla 3 has quite a few customizations when designing the perfect Model 3. Let's take a brief look at what you can expect to customize on top of each configuration.
The Model 3 comes in 5 paint colors, Pearl White, Solid Black, Midnight Silver Metallic, Deep Blue Metallic, and Red Multi-Coat.
For the wheels, there are two main options: 18" Aero Wheels which are included by default, and 19" Sport Wheels as a potential upgrade.
The Interior is either a choice of all black or a mix of black and white.
As we talked about earlier, if you're interested in the self-driving capabilities of the Tesla, it comes as an additional package on purchase, this being an additional $10,000 on top of the MSRP.
Purchasing a Tesla Model 3
That's about everything you should know about the Tesla Model 3, all that's left is the purchasing process. 
If you're interested in purchasing a Tesla Model 3, there are 2 main options for ordering. First of which you can purchase any Tesla from the tesla.com website. The second option is ordering a Tesla from any Tesla certified showroom. Either way, ordering you car will take a bit of time, the average wait time you can expect is around 2-11 weeks depending on what time of the year and how busy Tesla is with orders.
Do keep in mind that purchasing an electric vehicle, in some places, may have financial incentives and other owner benefits that are unavailable to those who purchase gasoline vehicles. This is something you should definitely look into, as it can substantially subsidize the cost of any Tesla.
Conclusion
Tesla prides themselves on their high-quality electric vehicles, and you can really tell when you first step into one. They are by far on the cutting edge of technology when it comes to self-driving and safety, and as such, it tends to be one of the best, if not THE best, electric vehicles on the market. Happy car shopping, and good luck Tesla fans!