Tesla is often known as a powerhouse in advancement, having pushed the edge of electric vehicle technology to where it is today. But an often forgotten fact is that for a long time electric vehicles have been considered, by many, to be a somewhat dangerous technology. Some claim that having high-capacity batteries in a moving vehicle could have proven to be a significant problem…but oddly enough they are ok driving around on top of a tank of highly flammable gasoline! 
For my money, I'd much rather drive around on top of a battery than 20 gallons of flammable liquid, but on top of that Tesla has gone above and beyond to make sure the car is truly the safest car on the road — in all aspects.
Let's dive into each way Tesla has kept their promise of safety and delivered outstanding results.
Tesla Safety First Design
Tesla has stated that their vehicles are engineered to be the safest in the world. To put this into practice they abide by a safety-first design process when engineering their vehicles. Let's take a look at how some of the technical engineering of these electric vehicles has been designed with safety in mind.
Battery Pack
The battery pack is probably one of the most iconic and core features of any Tesla. Not only is the battery pack placed in a position where it's least likely to be hit in a car crash, but it's also strategically located to provide both weight reduction and reduced rollover risk. Leave it to Tesla to design one of its core features while addressing other core safety issues. 
Impact Protection
In terms of impact protection Tesla has designed a patented side still structure that supports the chassis. This side structure allows the car to absorb impact energy, protecting both its occupants and the battery pack. 
This is something that is easily overlooked. One of the core safety concerns when it comes to an electric vehicle is its susceptibility to battery pack damage, which could lead to spontaneous combustion and or explosions. 
With their patented chassis side still structure, the battery pack is protected from the potential impacts of other vehicles, therefore preventing the often criticized safety concerns of EV's.
Structural Integrity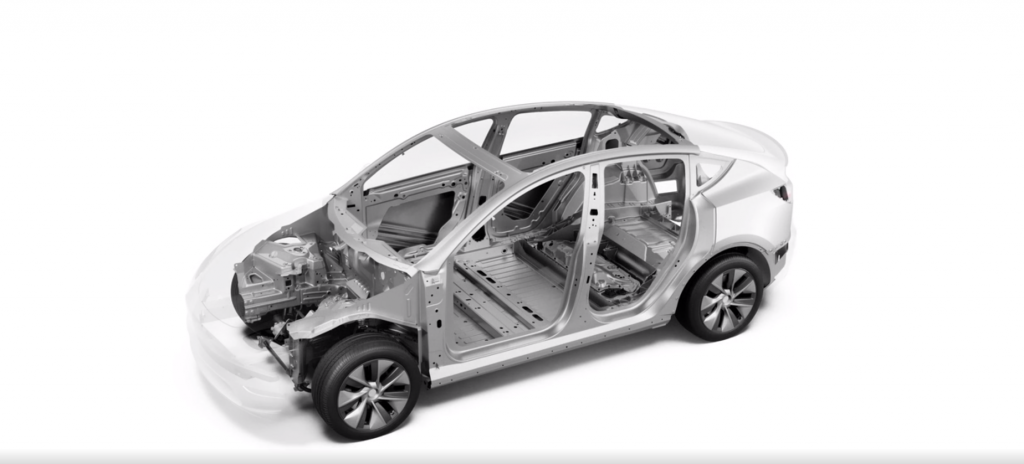 Alongside the patented side still structure is their rigid body structural integrity. Tesla made sure to fortify both the rigid body and the battery pack. This structural fortification helps prevent cabin intrusions from sidecar collisions or any other cause of damage to the structural beams of the car. Alongside the Impact Protection, this is really important for keeping both occupants and the battery pack protected from any damage. 
Thermal Protection and Fire Safety
One of the biggest concerns when it comes to electric vehicles is the potential for their battery packs to explode or catch on fire. In Tesla vehicles, the battery packs are specifically designed to spread heat away from the occupant cabin and battery to help prevent such disasters. 
"From 2012 to 2020 in the US, Tesla vehicles were approximately ten times less likely to catch fire per mile driven compared to average gas vehicles."  – Tesla Thermal Safety
Advanced Airbags
With Tesla's introduction of the patented side still structure alongside the fortified structural integrity, comes advanced airbags. Because there are fewer cabin intrusions by the car's frame there is more area for airbags to fully inflate and protect the passengers.
Inside Tesla vehicles, you will find that there are quite a few airbags around the vehicle, as opposed to purely in the front steering wheel and passenger side.
Tesla Active Safety Measures
Powered by Tesla's Autopilot technology, several active safety features can help reduce the risks involved in driving. These include automatic emergency braking, forward collision warning, blind-spot collision warning, and lane departure avoidance. Each of these features can not only help reduce the impact and severity of an incident but prevent it together.
Tesla vehicles are built with eight cameras providing 360 degrees of visibility alongside twelve ultrasonic sensors that can detect both hard and soft objects (this includes other vehicles). It's with these sensors that each of these technologies is possible.
Automatic Emergency Braking
Tesla vehicles can automatically detect vehicles, pedestrians, and other objects in front of you and apply the brakes to mitigate or avoid an impact. No matter how vigilant you are while driving, there can always be unexpected or unforeseen occurrences. Say someone runs out in front of your car or a car in another lane decides to suddenly shift into your lane, rather than relying purely on your reaction time the Tesla vehicle will automatically start braking.
The average reaction speed of humans is about 250 milliseconds which is far above the latency level of Tesla's automatic collision detection system. This means before you can even react to any issues that arise while driving, your vehicle has already started to prevent the impact with automatic emergency braking. 
Forward Collision Warning
The forward-collision warning system provides you with both visual and audible warnings of an impending collision. This works for both cars and obstacles, so if you're backing up and about to hit a wall, or driving too close to a car in front of you that starts to brake, the system will automatically warn you.
While the automatic braking system is set in place to help prevent these collisions, sometimes it's enough to just be warned of this impending situation. This can help to provide you with more options if something does arise that requires more precise movement to avoid.
Blind Spot Collision Warning
When a possible collision is detected with a vehicle or object in your blind spot this system will warn you. This is fairly similar to lane-changing collision detection except in the case of Tesla vehicles, this feature is always on. Unlike other vehicles with a similar feature, Tesla's version will also warn you if there are obstacles in your blind spot, while other similar systems only warn you of cars.
Lane Departure Avoidance

This feature will automatically correct your steering if it detects unintended lane departure. If you start to swerve into a different lane this system will automatically correct the car back into your lane. 
Automated AI Safety System
As you drive a Tesla, the systems in the car are always on alert and storing data. Each of these systems provides valuable data back to the Tesla software which will learn over time how to better protect its occupants from the dangers of driving. With more than a million Tesla vehicles on the road, billions of miles are driven on Autopilot, and the data collected from these cars are all analyzed to learn how collisions happen and how to better avoid them.
This means that not only is Tesla aiming for safety first design in their technology and software, but are continually learning and improving your experience even after you purchase your vehicle. In fact, your safety in any Tesla vehicle actually increases as time goes on, rather than depreciating as with over vehicles.
Tesla Vehicle Safety Ratings
One of the top governing bodies in the US, the NHTSA or National Highway Traffic Safety Administrations, has in fact given Tesla vehicles multiple 5-star safety ratings (The top safety rating you can achieve). Let's take a look at the ratings each vehicle has received from the NHTSA.
Tesla Model S: 5-Star Safety Rating (Overall and every category) 2013
Tesla Model 3 (RWD): 5-Star Safety Rating (Overall and every category) 2018
Tesla Model 3 (AWD): 5-Star Safety Rating (Overall and every category) 2018
Tesla Model X: 5-Star Safety Rating (Overall and every category) 2018
Tesla Model Y: 5-Star Safety Rating (Overall and every category) 2020
As you can see every Tesla vehicle has received top ratings from the NHTSA in terms of safety in every single category. Each model has ranked amongst the top of the top in terms of safety compared to every other vehicle on the market.
Alongside these 5 star ratings by the NHTSA, Tesla, specifically the Tesla Model 3, has received the "Top Safety Pick Plus" from the IIHS (Insurance Institute for Highway Safety). The IIHS is a nonprofit organization funded by auto insurance companies, established in 1959, to help test, rate, and award vehicles for their safety. Tesla won this award in 2019.
Overall Tesla Safety
Tesla has gone above and beyond what most car manufacturers provide, in terms of safety precautions. This is especially important in the production of electric vehicles with the added danger of some of the elements such as the battery pack. 
While Tesla is often in the limelight for its advanced autopiloting system, fast cars, and futuristic body styles, their safety features are an often overlooked feature. As is Tesla's way, they're continually pushing the bounds of what is possible even in feature sets such as vehicle safety.